There is nothing quite like the fun of opening a new slot car set. This is how most of us got started and choosing the right one can be the beginning of a very rewarding hobby. As we all know, that FIRST impression is a lasting one and this set from Scalextric delivered a positive one to say the least.
And sometimes the technology advancements this hobby has seen in the past few years can turn a once simple starter set into an impressive slot car experience.  That new technology was my reason for choosing this set.
The criteria I followed was short and simple:
Low Cost.  A set that was under the $200 limit.
Set purchased HERE at LEB Hobbies
Featured the ARC ONE system for quick race management/timing.
Please watch the videos as they tell it all.
I like to base my opinions just as a newcomer would when opening a new set. Imagine Christmas morning and this is the set you chose for that lucky racer.
How easy is it to set up? That is a big deal isn't it parents?
How much fun is it? Isn't that the goal? Can your new racers have some fun discovering this hobby with it?
My main reason for choosing this set was because it included the ARC ONE system or App Race Control. This is a simple race/lap timing system that works on your smart phone or tablet. I felt it could add some interesting aspects to  standard analog racing and although I was skeptical, it proved to accomplish that and more than I expected.
We will begin with looking at the ARC ONE system.
Here is a link to the Scalextric site which shows the 3 different ARC systems and shows you the differences.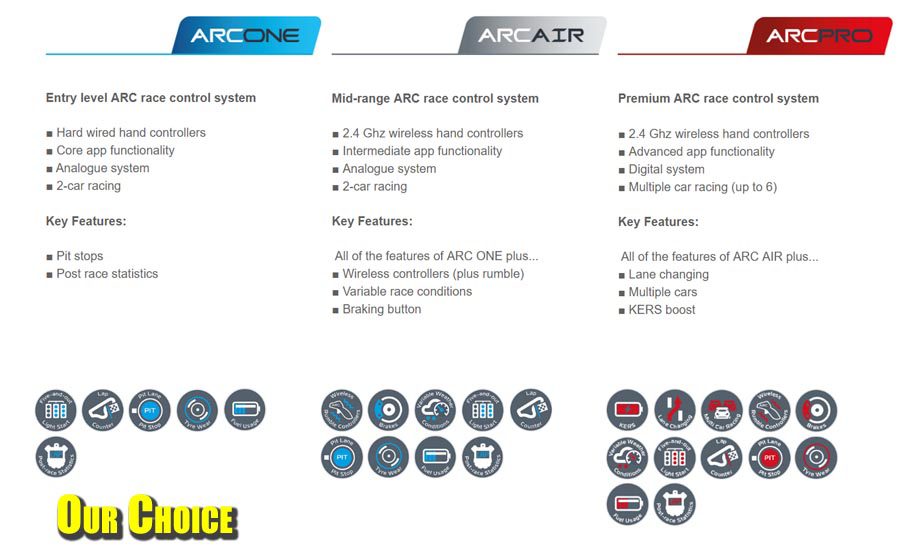 I just wanted the basic system. Something that added a little more to the standard analog racing without the added expense. So remember this is NOT DIGITAL. It is simple 2 car racing, but the ARC ONE has enough features to make it interesting.
The first thing we did was download the ARC ONE app. We were using our Apple iPad and iPhone but it also works with Android based devices.

Installation was easy enough. The instruction booklet included is simple to follow. My grandson had it ready to go in just a few seconds.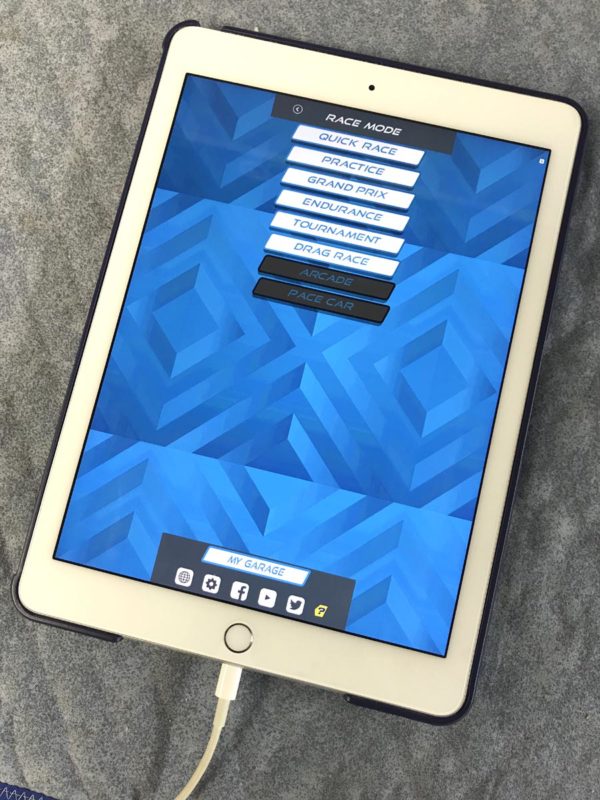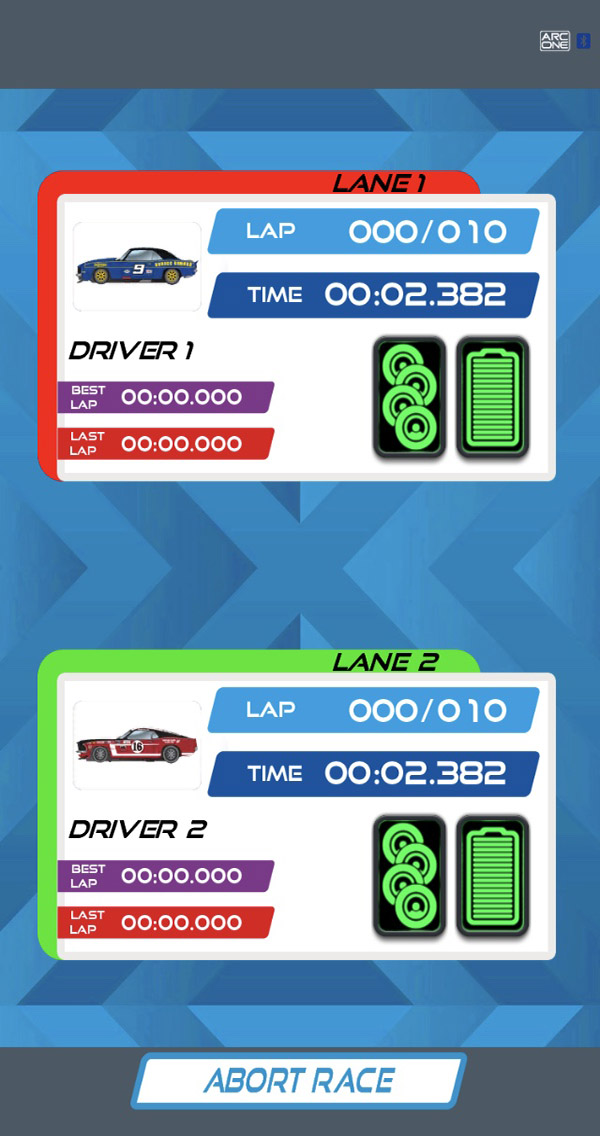 Tire wear and fuel strategy are not the only stars here. The lap timing is a major item of interest for me. We do a great deal of fast lap challenges around here and it was this feature I looked forward to the most.
Well, that was BEFORE we raced using the other options and having to pit. I must say this added a great deal of fun for simple analog racing. The ARC ONE version does not have all the full bells and whistles that the ARC AIR and of course the ARC PRO has, but the basic functions included are more than enough in my opinion, especially for just starting out.
My only concern was how easy would it be to connect? Nothing can frustrate you more than a system that needs advanced settings just to connect. Thankfully this one is as simple as it gets. Load the app on your device and the light on the powerbase will turn green. That let's you know you are connected. Green means GO right?
Now to set up the track. Scalextric track is very easy to connect/disconnect.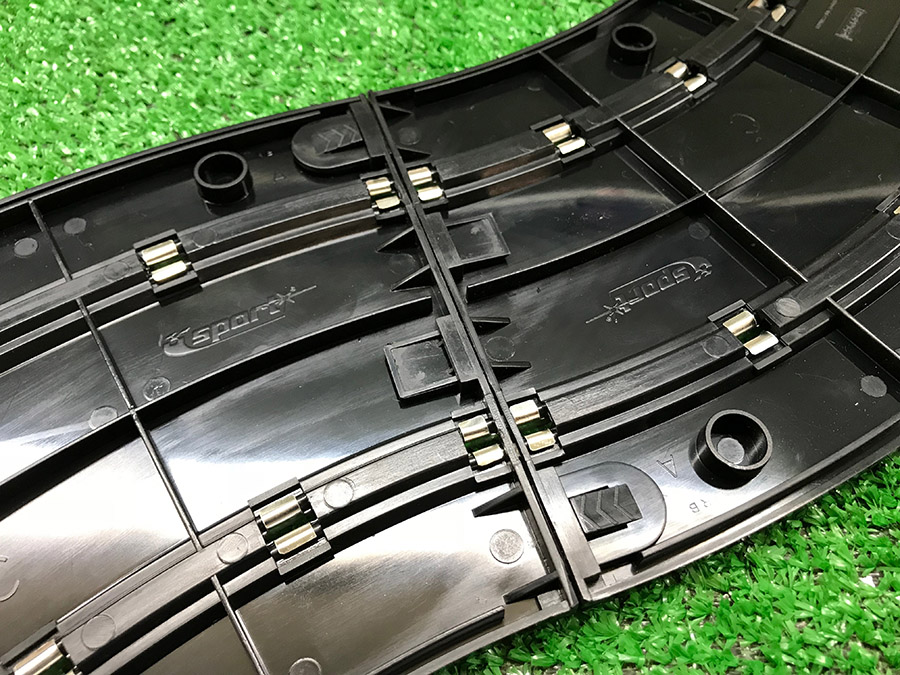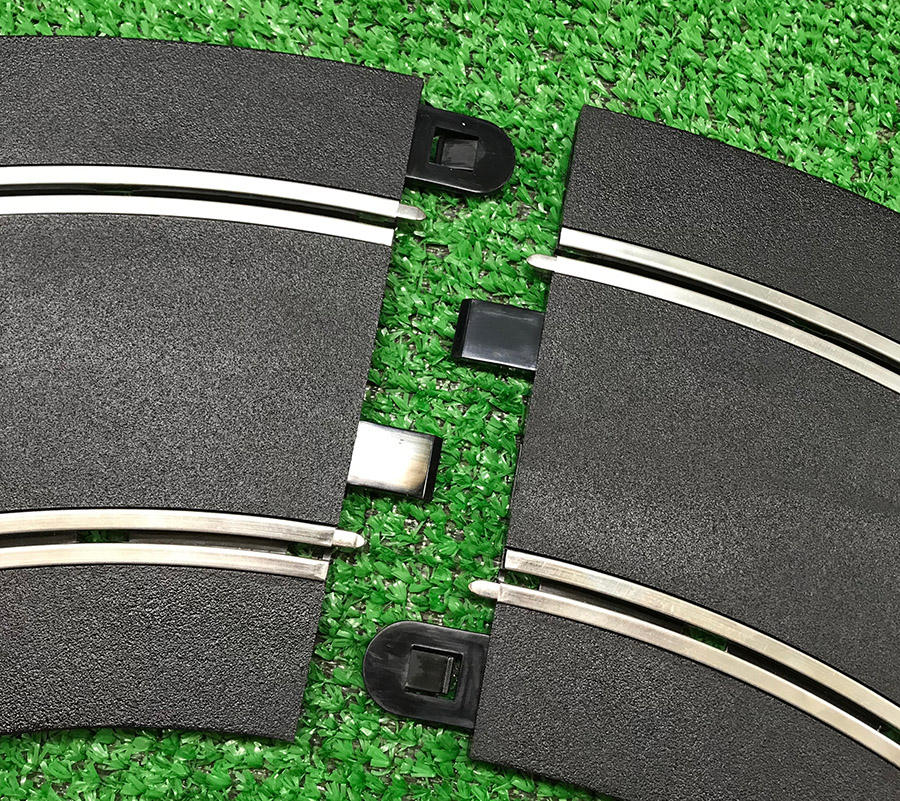 We chose a track plan that would fit our table and in just a few minutes we were ready to race.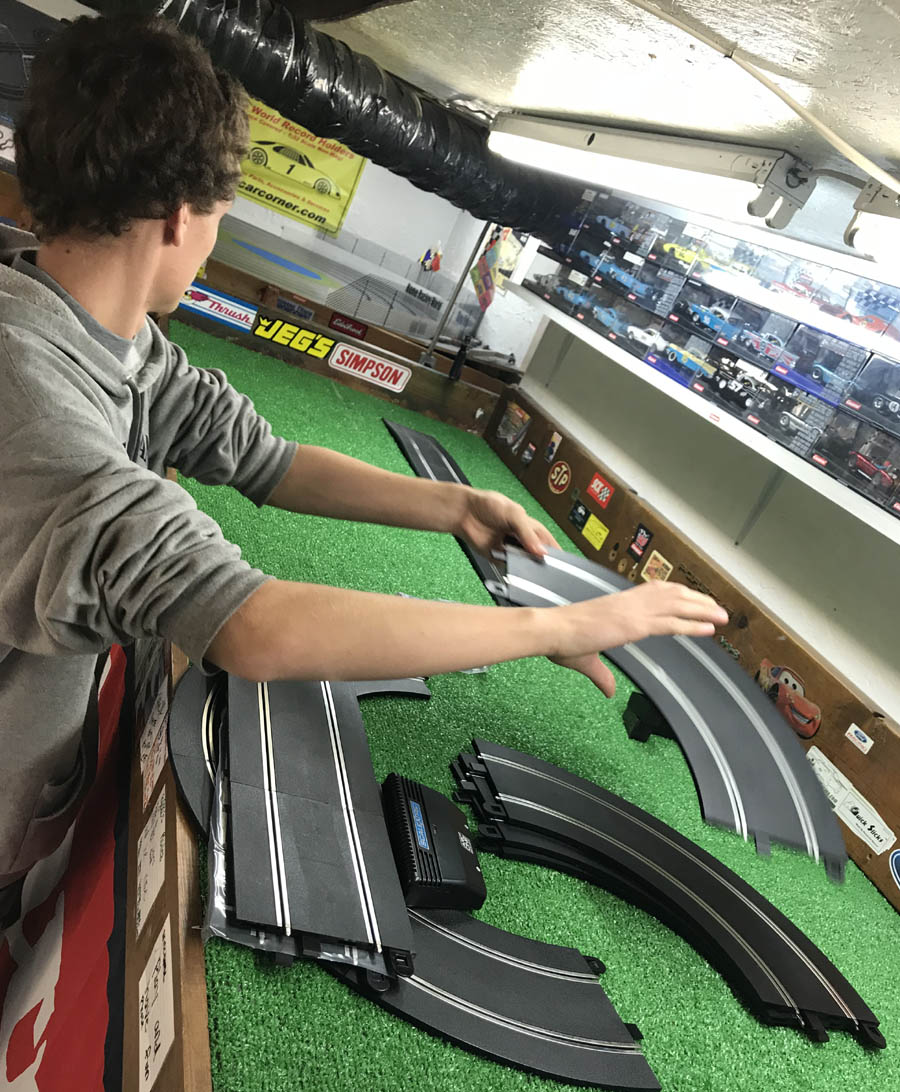 The power base is simple enough to connect as well. The connections are clearly molded to only fit the correct way. I left connecting the controllers and power to my 8 year old granddaughter. So I am sure that anyone reading this can do it as well.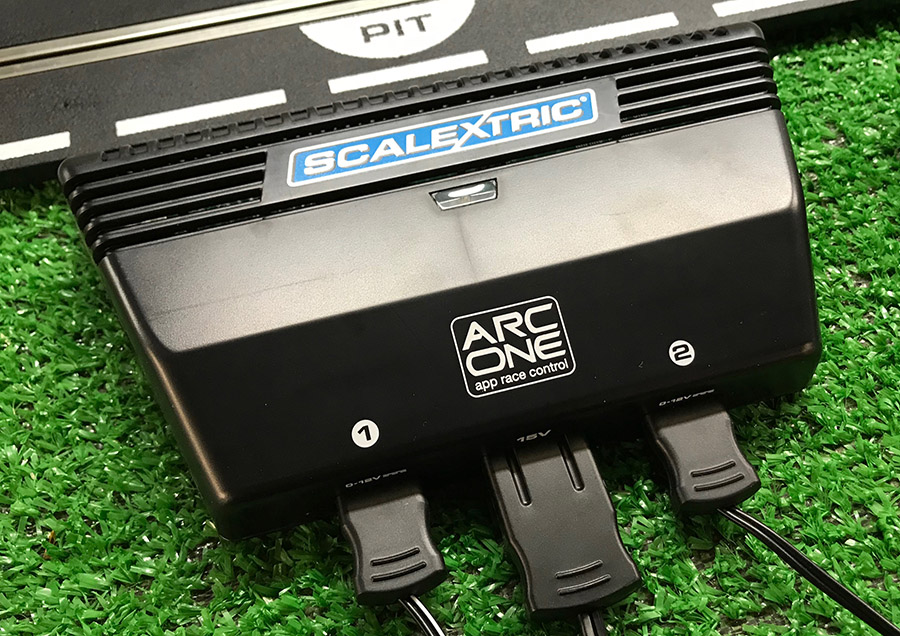 You do not need the App to run the cars, although that is the main reason to choose this set. The transformer in this set is a new one as well. It is 15VDC with 1.2 AMPS output. This larger amp output was nice to see as it helps prevent that major increase of speed in one car when another crashes. With the speed limiter controllers, dialing down the speed is easily enough accomplished as well.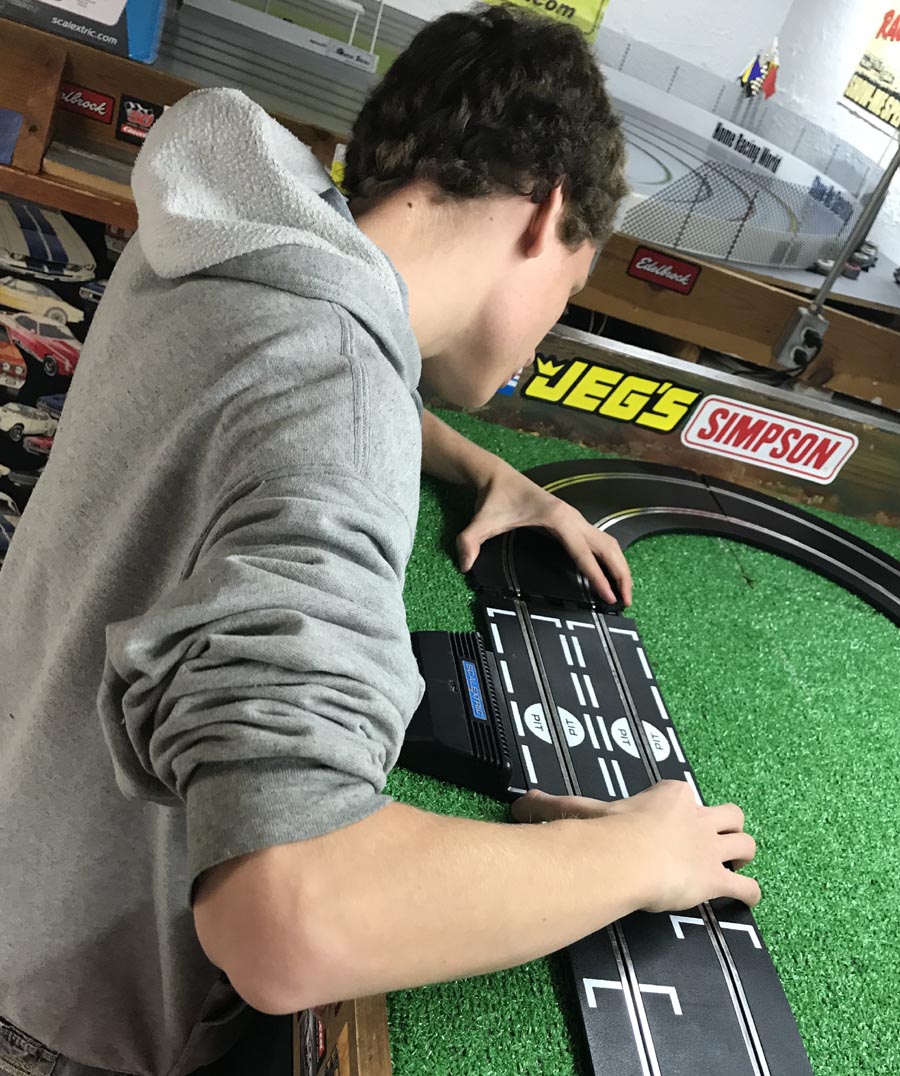 Now veterans might find this next opinion a little odd, but I have to say I am VERY impressed with the new controllers. The reason I am is the built in "governor" or speed limiter. These WORK GREAT and proved it the first time we set them up.
You can adjust the amount of control by turning the knob as shown in the video.
This has been a long time coming. It is just what our hobby needed to help the first time young racers. We can all say things such as "Just teach them". But the real truth is that it's nice to have an option built in to help us do that.
THE CARS!
Ah the highlight of any set. And for me there isn't a better pair of cars than classic American Iron!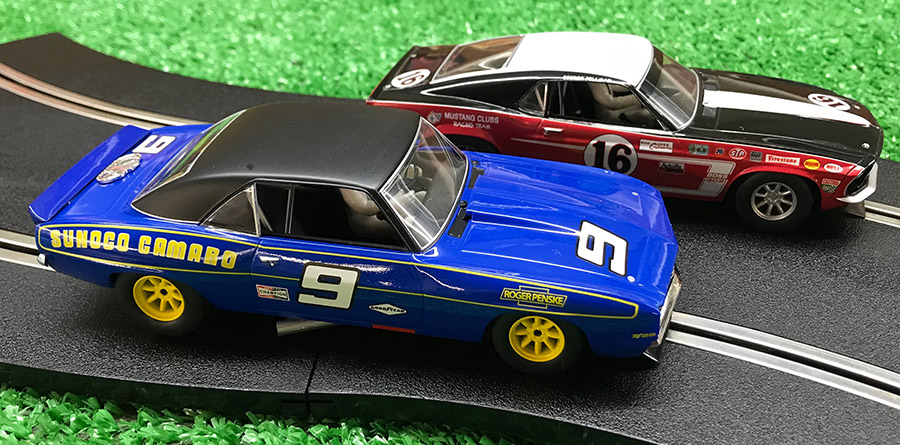 These cars have been in the Scalextric line up a long time. They have strong enough magnets to help keep the cars pinned to the track and they run VERY well right out of the box like they should.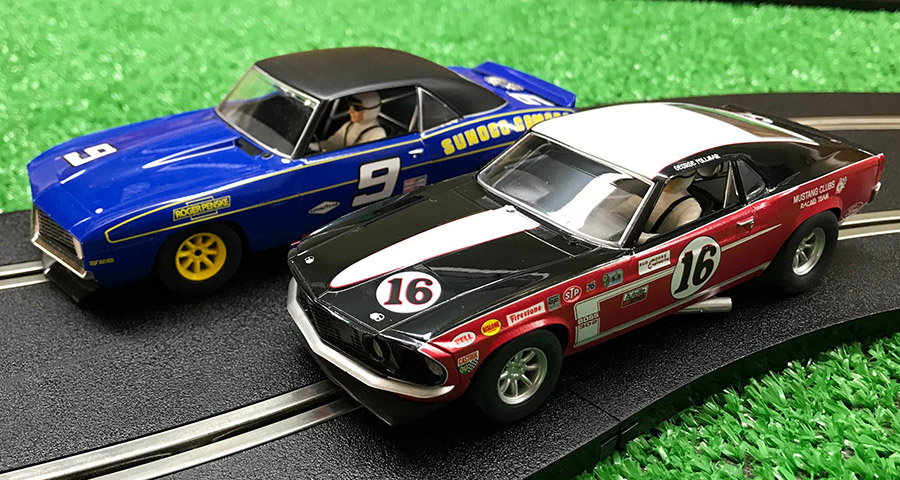 Plus they just look great. Ford vs Chevy. It doesn't get much better than this in a slot car set.
This video of my grandchildren and I racing says it all really.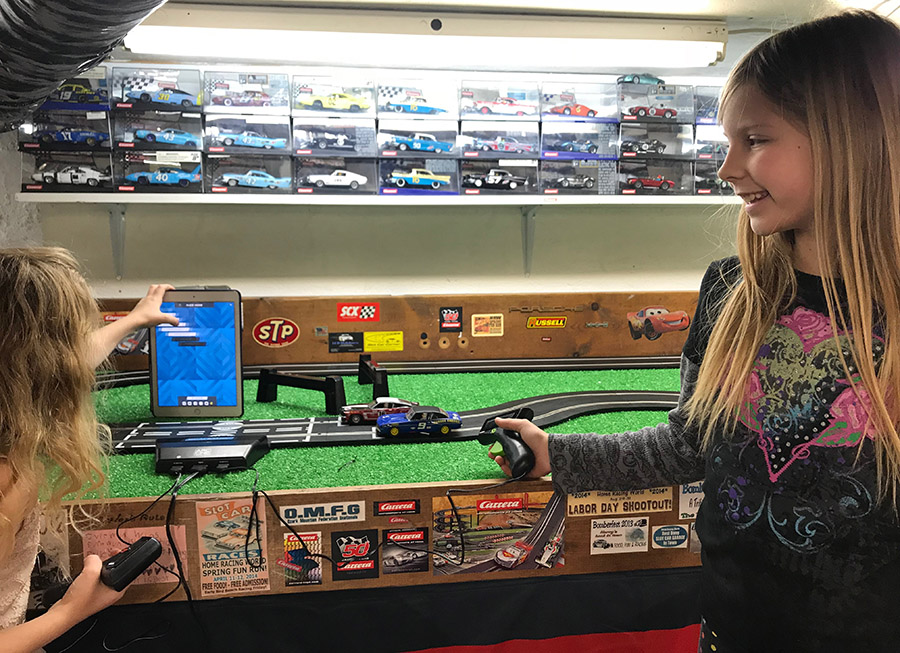 Needless to say, I am VERY pleased with this set. It was easy to set up and in minutes we were all having a great time racing slot cars. The ARC ONE App adds so much to the racing that it is EASILY worth the extra investment over a standard set. From the tire wear and fuel strategy, to reaction times and overall lap timing. This is the one thing that most sets lack and what most enthusiasts look for. I have spent hundreds of dollars for timing systems on our wood tracks and although they are a bit more advanced for holding race events, this simple app does what most newcomers will want.
So if you are looking to get started in this hobby, I have to HIGHLY recommend this set. You should have a fun first impression and that is exactly what a good set should deliver.
-Harry
Set purchased HERE at LEB Hobbies