Two classic Australian Ford Falcons almost a decade apart. Each one a classic in it's own right that highlight a legendary driver and an equally legendary race. If you are a slot racer in Australia, you should be pretty excited at the release of both.
1979 Ford XC Falcon in stock HERE
1970 Ford XW Falcon in stock HERE
I'm pretty excited and I am in the middle of the good old USA.
Why the appeal? I am certainly no expert on Australian motorsports. The again I'm no expert on quite a few series our hobby features. But I do enjoy reading and learning about the many different race classes from all over the world. And recently that is just what I have been doing. The racing at Bathurst in particular, with the interesting history of Ford along the way. Read about it HERE.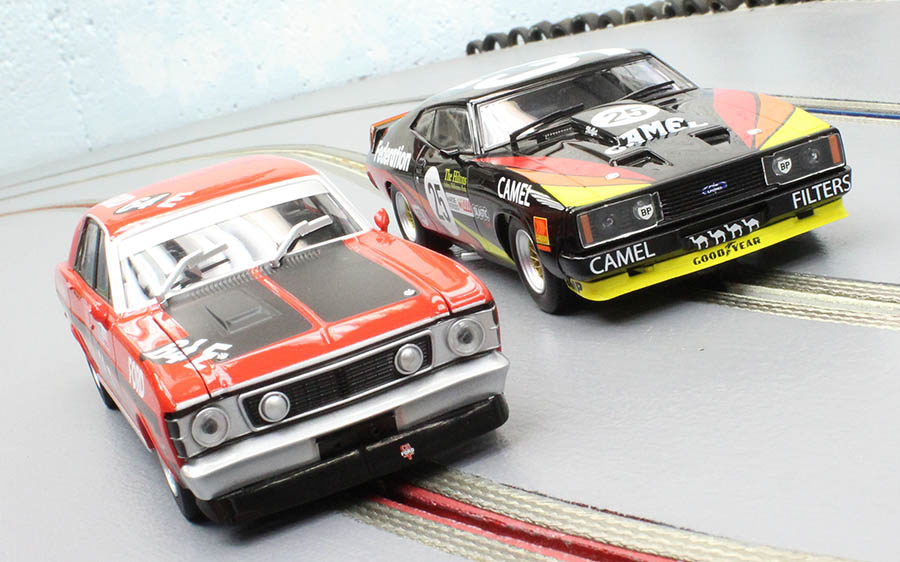 | | | | | | | |
| --- | --- | --- | --- | --- | --- | --- |
| Model | Length | Width | Height | Weight | Gearing/Config | Motor |
| 1970 Falcon XW | 147 MM | 55 MM | 43 MM | 74g | 9/27 Inline | 21,500 RPM |
| 1979 Falcon XC | 153 MM | 63 MM | 41 MM | 95g | 11/36 Sidewinder | 21,500 RPM |
Now you might look at these cars and scratch your head. They don't look like any Ford you remember. But if you sit back and research Ford in Australia, it will all make sense. Fascinating to me and you might find it creates a little more appeal for models such as this. To be very blunt, these models hold more interest than other various marques from Europe. Even with the steering wheel on the "wrong" side, they have very close ties with our own versions. Then you throw in the fast paced action that Bathurst featured and you get a win-win.
Model Introduction Video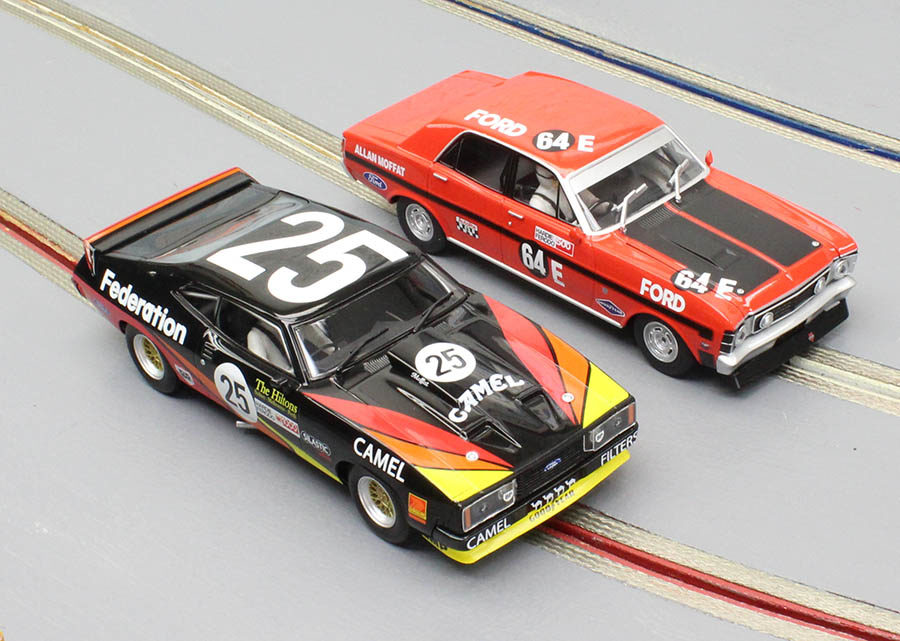 Finally there is the drivers. All you need is an hour or so of reading and you will come to admire the accomplishments of Allan Moffat. I won't waste any more time on this because I can't do him or his partners any justice in the space I have. Just start HERE and you will get a good idea.
Onto the cars!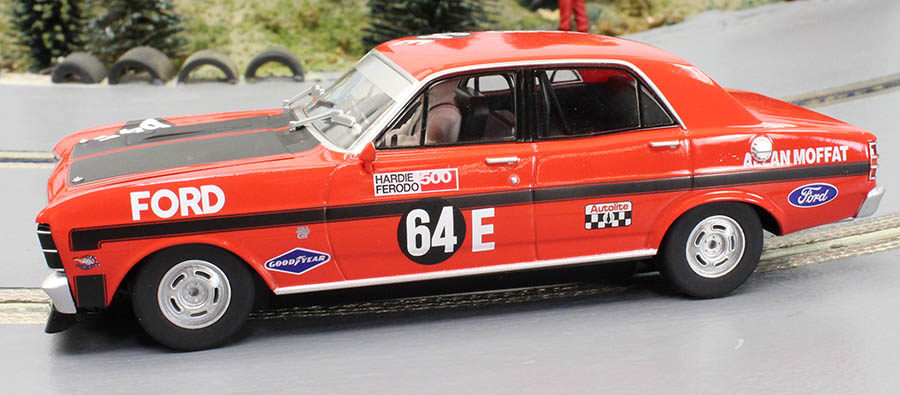 There is no explanation why I like the 1970 version. It's a boxy little 4 door that most would rightfully laugh at on the street. But this one had the last laugh on the race track in 1970.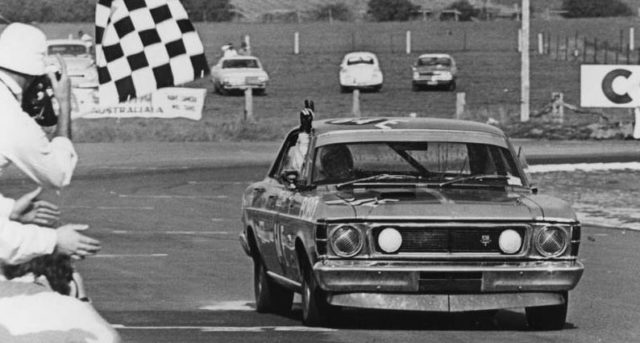 Taking the checkered flag at Bathurst in 1970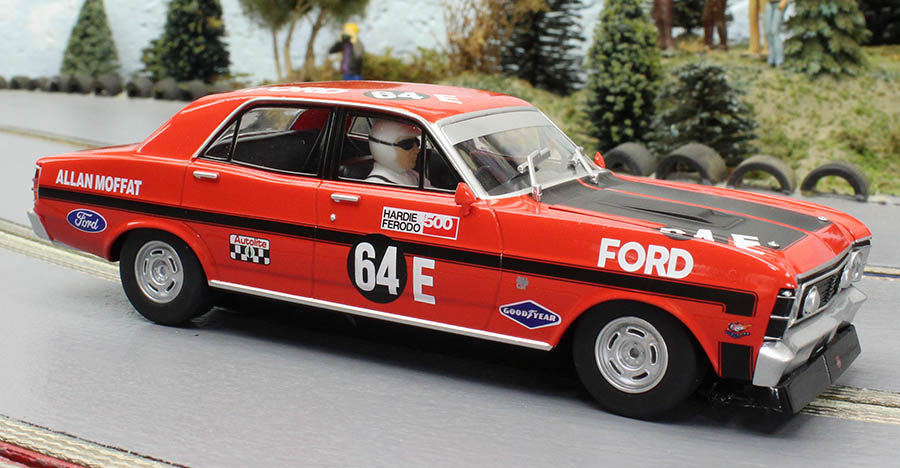 The markings and fit and finish are done very well. Nothing is ever perfect but it represents the prototype well enough for me.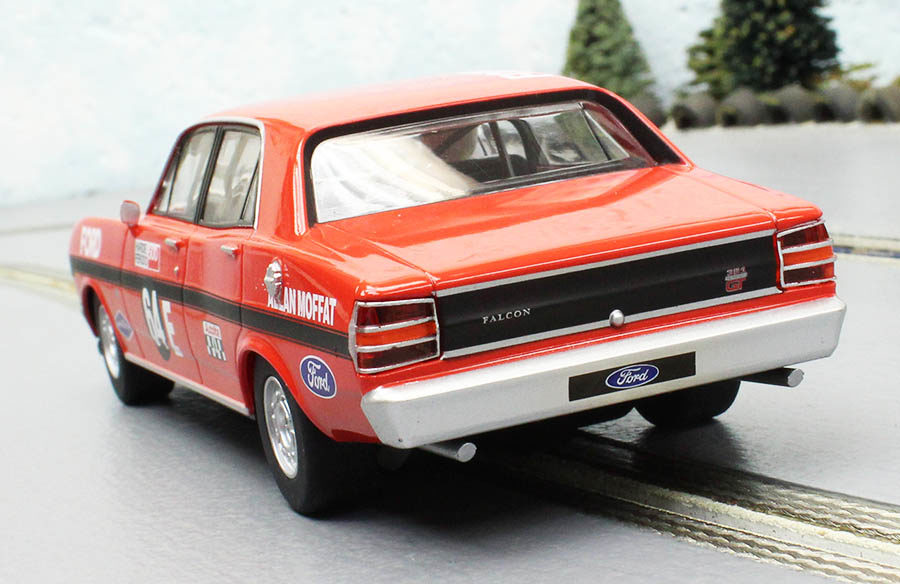 Of course I am not an expert on the prototype. Just going on photos alone. YOU will make your own call as always.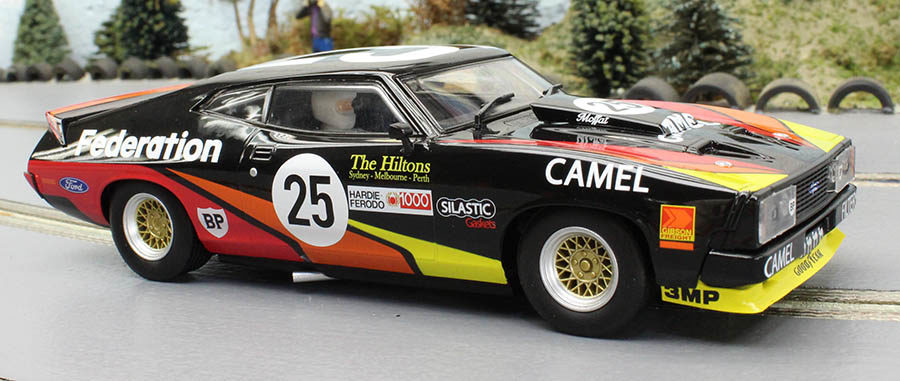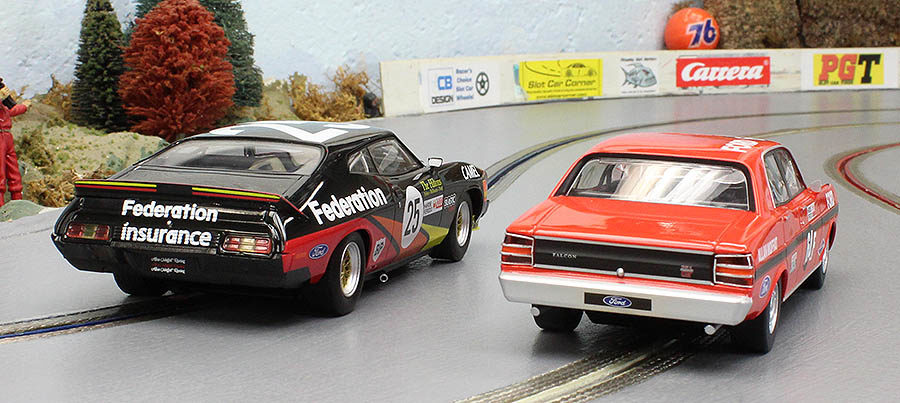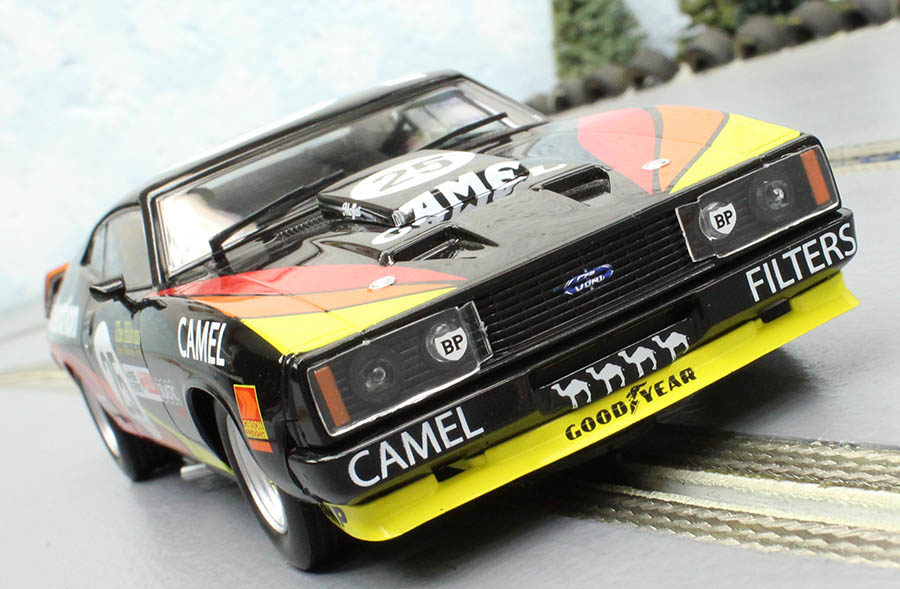 1979 version is a platform we have seen many times from Scalextric. Although this one has a different front grill and hood design, the inside is the same.

It's the overall finish that stands out to me. I just reviewed a new car that costs almost $30.00 more from Spain that cannot match the opaque markings these cars have.
Inside we see the older 1979 Falcon with the same chassis it has had before. 11/36 gearing with standard motor in sidewinder configuration.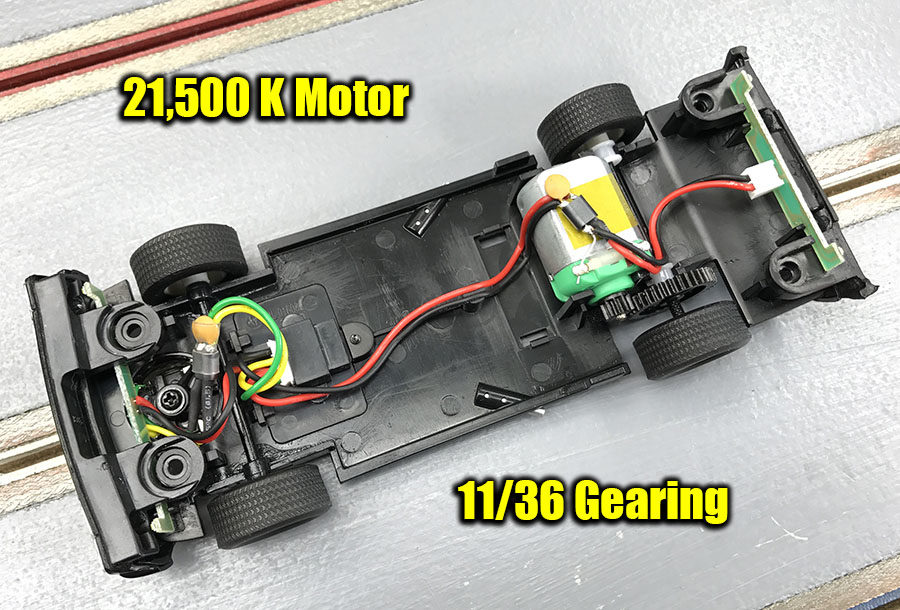 This model is lighted front & rear.
The new release has the inline configuration. Same motor but the rear wheels are slightly smaller. For the veterans out there, just relate to Slot.it 14×8.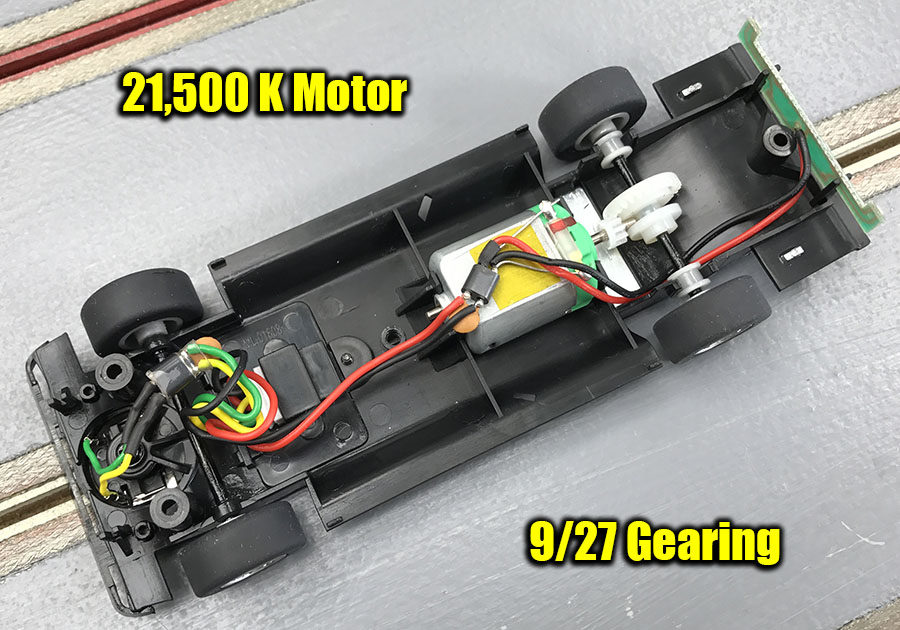 As the video indicates, these rear bushings are very loose in the chassis. I used the same Hansen's Hard As Nails polish to secure them. This holds them pretty well, and can still be snapped out without damaging the chassis.
TIRES
Paul Gage – 21105/Falcon XW 1970
Paul Gage – 21104/Falcon XC 1979
SILICONE – QUICK SLICKS
1)  Scalextric 79′ Falcon XC – Quick Slick SC02
2)  Scalextric 70′ Falcon XW – Quick Slick CB18  (Note:  Clearance with fender well is very tight – you may have to insert a .020″ axle spacer between the rear body post and chassis to obtain additional clearance)
Closer Look Inside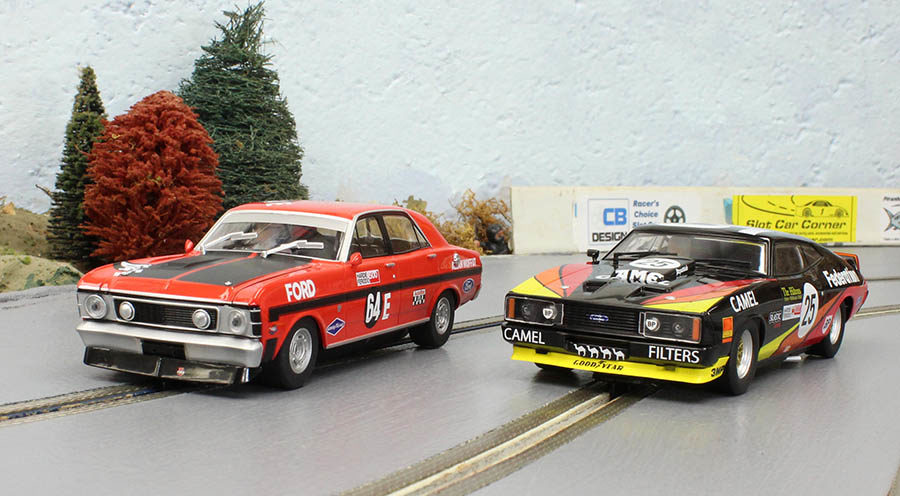 Each model had a session on the Tire Razor to sand them wheels and then I installed the tires. The tires for each were glued using Hansen's Hard As Nails. When dry I sanded the tires until true. I also sanded the fronts on the 79 model. The tires had some heavy cupping and really needed cleaning up.
And that is it. Just some simple tuning has them running just fine for my taste. More tuning will just make them even better if you wanted to take it further. For my simple home track, they are good enough.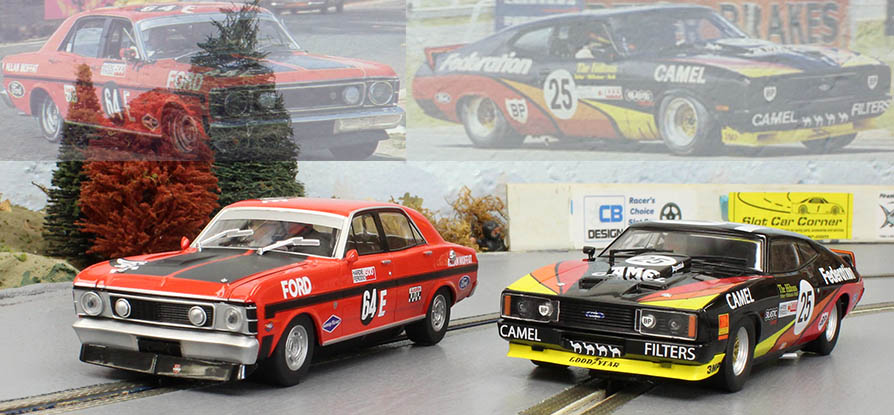 I like the models and glad I added them to the stable. A few small issues here and there but nothing to stop the fun. Tuning is part of the hobby for people like myself, and these cars have a good platform to work with.
-Harry

Support those who support YOU!