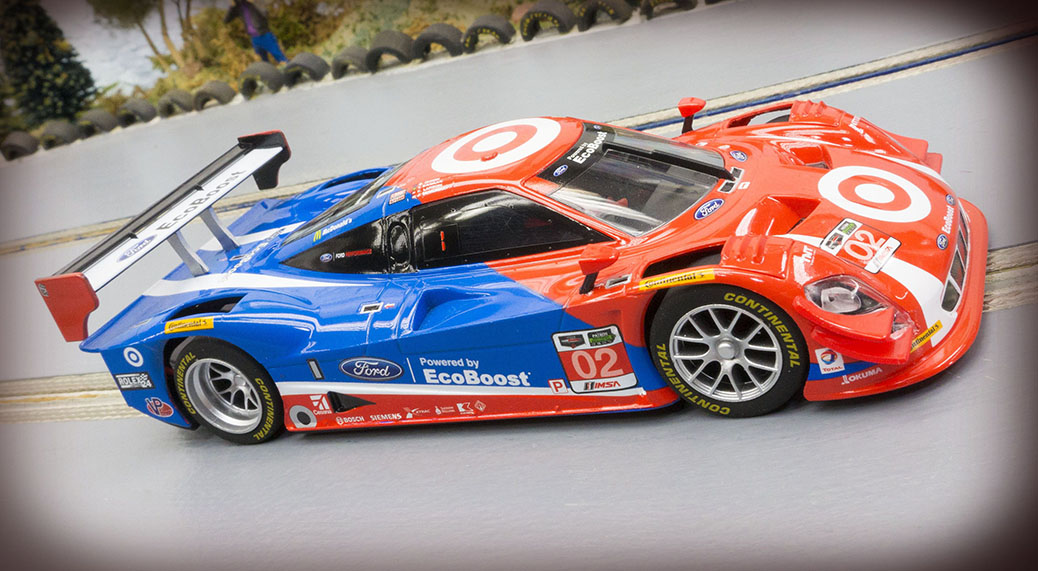 The Daytona Prototype series seemed like an odd choice for Scalextric to choose. This series is not the most popular, but there are those that follow it with a passion and having a new player in scale is a welcome sight.
One reason for the lack of a large fan club is most people simply do not like the look of the cars. And I cannot argue that because they certainly have a very unique shape. Just one of those types of cars that either you like or you don't with no middle ground.
If you are not up to speed (ahem) on this series, here is an interesting overview. With the series going through a dramatic change for 2017, this mold by Scalextric will have limited liveries to produce, but with some creativity I can see it lasting for quite awhile.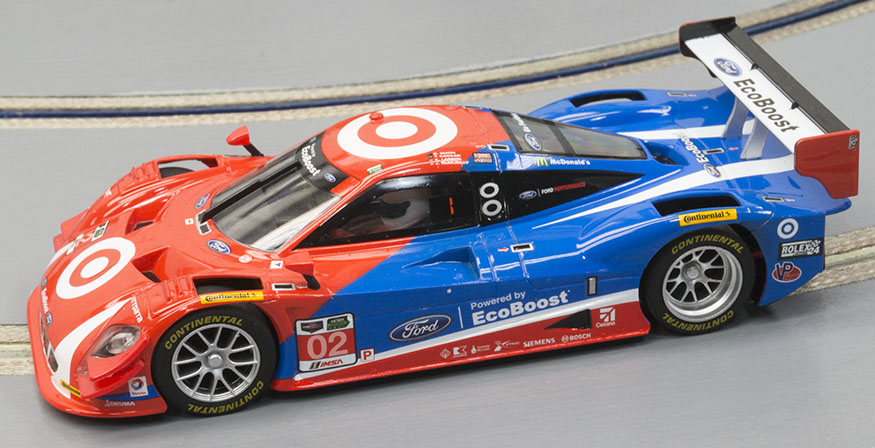 This car represents the "Gen3" series of DP cars and the last of the series as we know it. As it is Scalextric did a fair job in 1/32nd scale. Nothing is ever perfect of course, but a clean and acceptable job all around for my eyes.
Quick Data
Height – 34 MM (36 MM @ Rear Wing)
Length – 145.5 MM
Width – 61.75 MM
Wheel Base – 87 MM
Weight – 74.8 Grams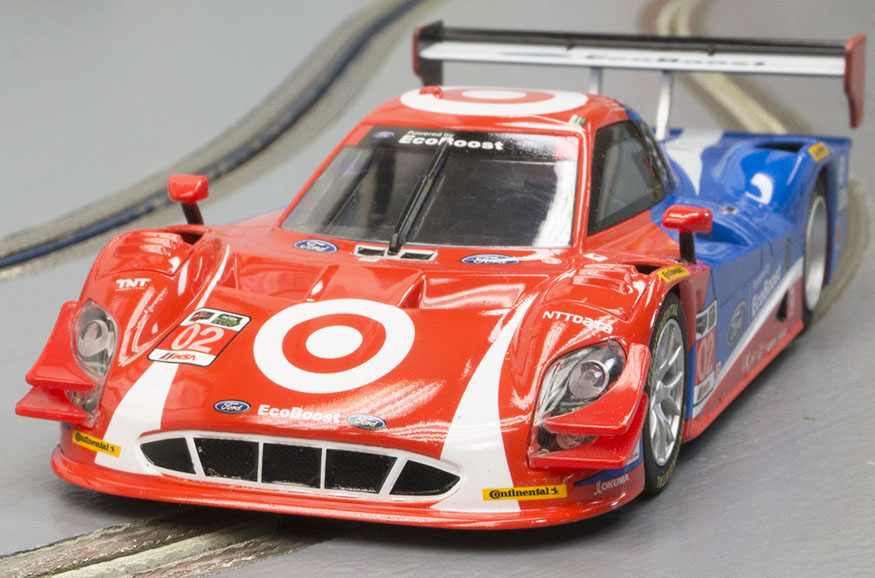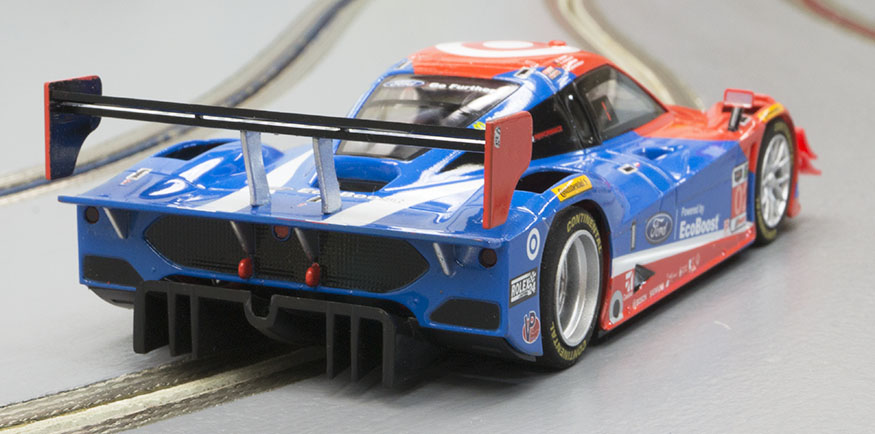 The cockpit or greenhouse of the car seems a little low to my eye. It appears to be that the front windscreen area is just angled too much and causes it to look slightly short in the center. I am not an expert on this series by a long shot, but comparing prototype photos seems to reflect that to me. The air ducts for the brakes are also missing. These were added after the original design of the car, so I can see how they were passed on. It takes quite awhile to tool up a new mold and impossible to keep up with body changes as they happen.
The decals/markings are again very crisp and clean. I noticed a little orange peel effect in a few small areas, but nothing to spoil the fun factor.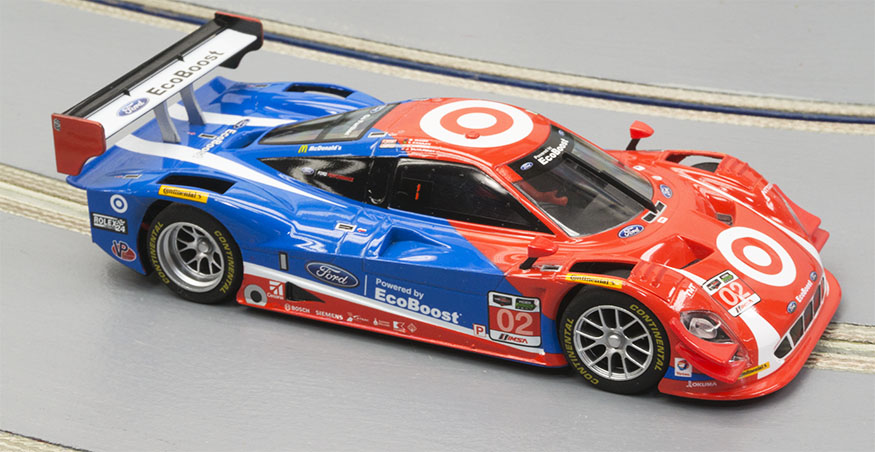 On the outside things are fine by me. Let's look closer.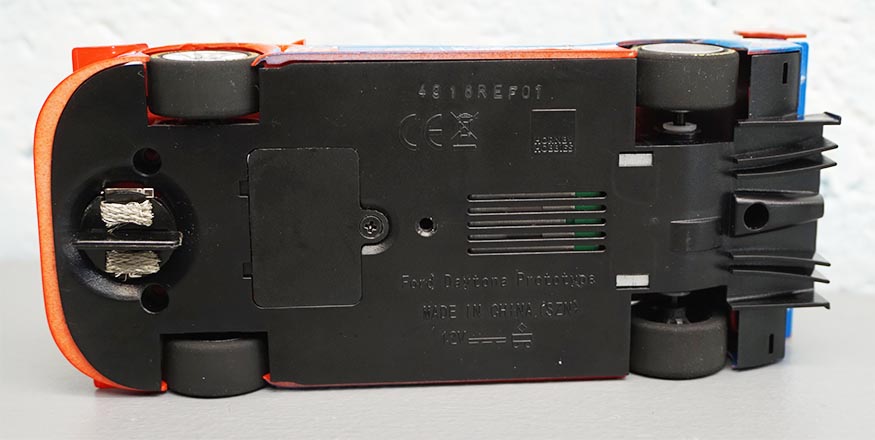 We see the now standard inline chassis with 3 mounting points. This chassis is easy to attain float by loosening these screws.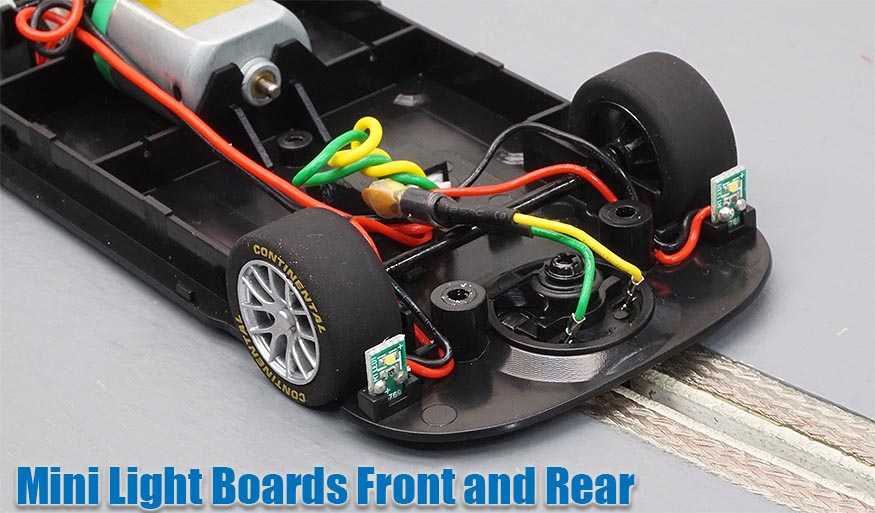 This car is lighted front and rear and I like these smaller light boards.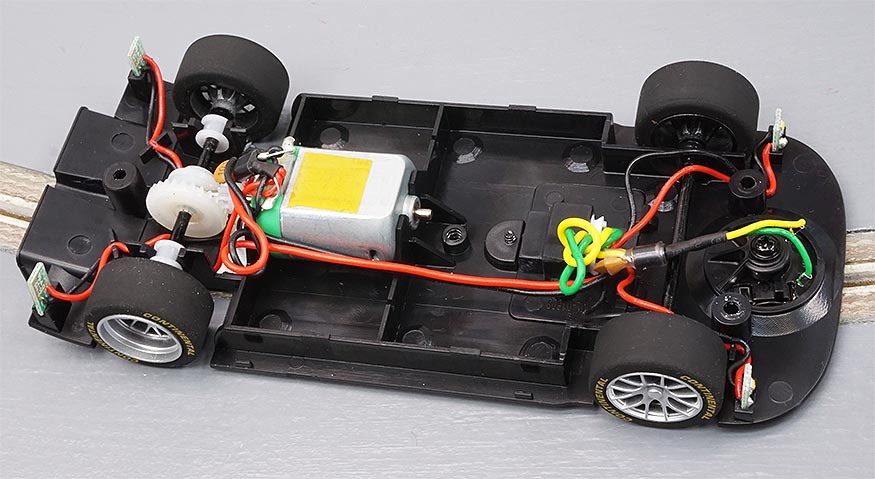 Simple and efficient in my view. 9/27 gearing with standard motor.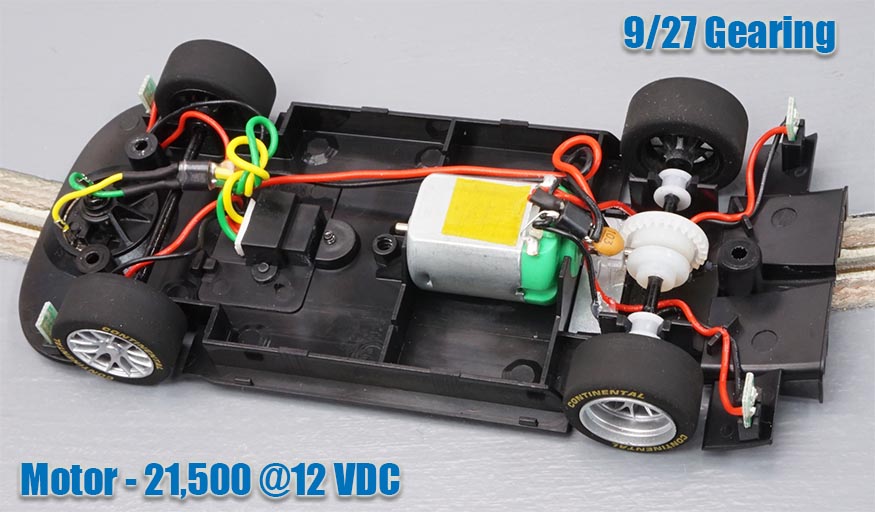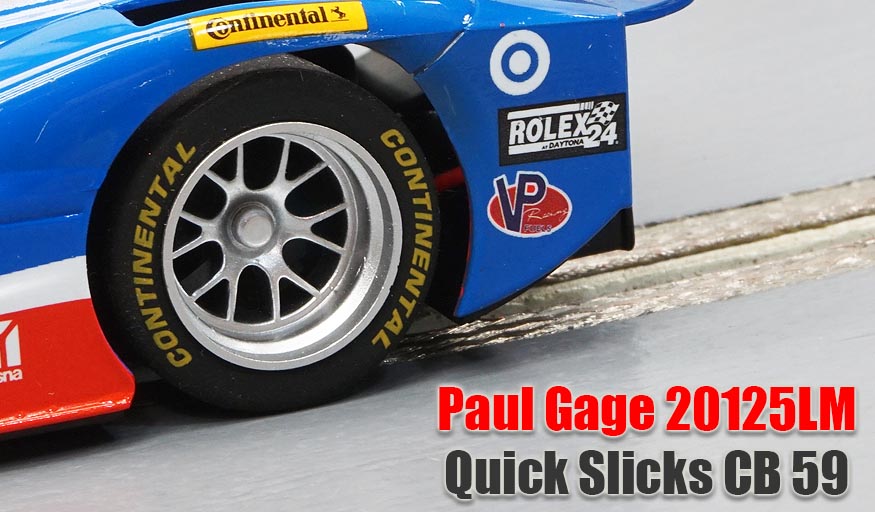 Tires will be easy to get with the new wheel sizes. It matches a Slot.it 17×10 for those looking for other brands.
Here is our video that includes the test run.

At the finish line I like this car a lot for the balance and how smooth it was with no modifications. My only wish is that another model was released alongside of it. Without at least one running mate, it limits the appeal for many small groups and clubs. Even home racers like myself would like to have a pair for those fun head to head matches. One is planned for later in the year, but in my opinion they should have arrived together.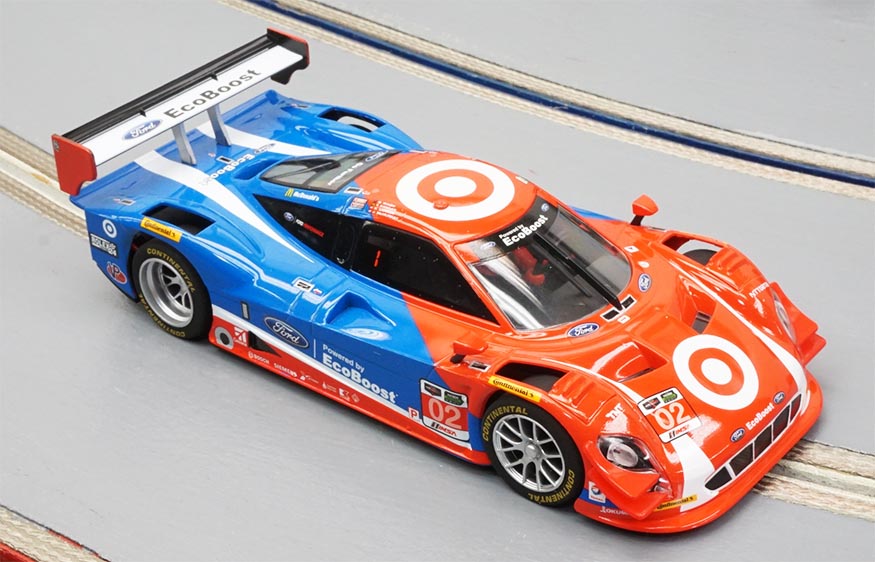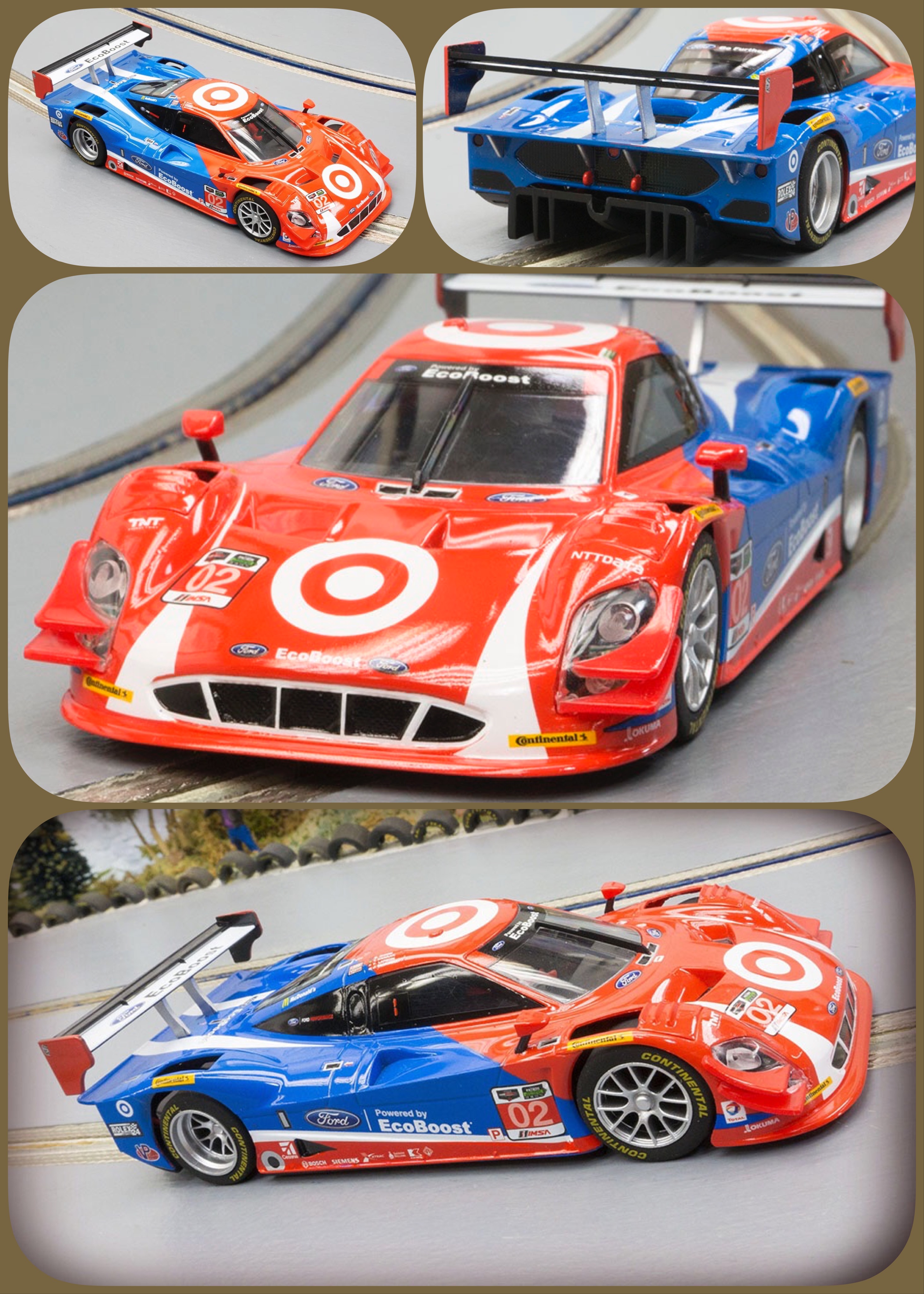 The car itself is a smooth performer and looks well all around. If you are a fan of this series then it's likely already on your list and should be at your door very soon. I think anyone just choosing it on an impulse will be pleased as well. All we usually want is a decent looking and running slot car. Scalextric delivered that.
-Harry