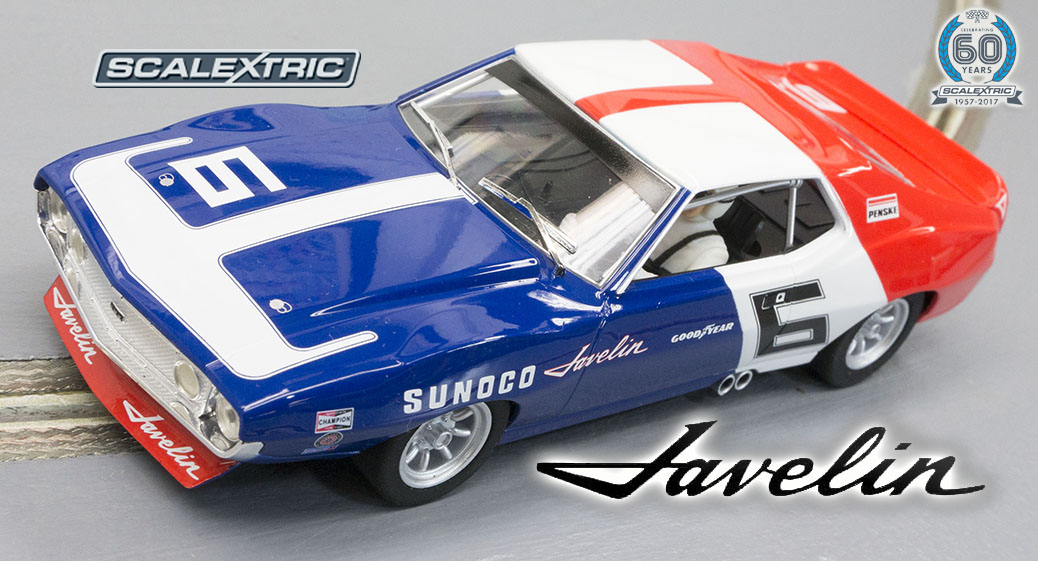 Scalextric 1/32nd Scale Javelin – 1971 Mark Donohue #C3731
Slot Car of The Year? In March? This could be true given all the buzz about this release. It's easily the car of the year for Scalextric on this side of the pond and it is finally time to take a closer look.
How many years have we been waiting for this one? Since the day the first Mustang arrived in my shop back in early 2002, the pleas for this Javelin were heard. There have been many molds done over this time period but very few match the popularity of this one.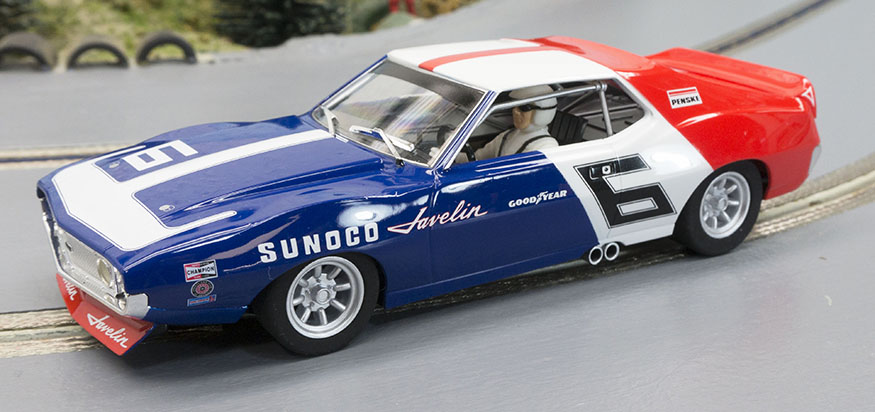 I'll just let the photos speak for themselves. Overall I think Scalextric did a decent job of producing this in 1/32nd scale.
Quick Data
Height – 39.50 MM
Length – 151.5 MM
Width – 58 MM
Wheel Base – 87 MM
Weight – 72.2 Grams
By the numbers this car is VERY close to scale. It is slightly narrow but not enough to bother me.
This car is historic in so many ways. The dominance it had in the 1971 Trans-Am series was impressive to say the least. That year was called a "steamroller" with Mark Donohue at the wheel. He won seven races, including six straight, in this AMC Javelin. Donohue easily won the Drivers' Championship along with AMC claiming the hands-down winner among the manufacturers.
Here is my video review.
Paint and markings are clean and crisp. I honestly cannot say if these are decals or tampo-stamped. They are that clean. Not that it matters really, the end result is what is popping in front of me.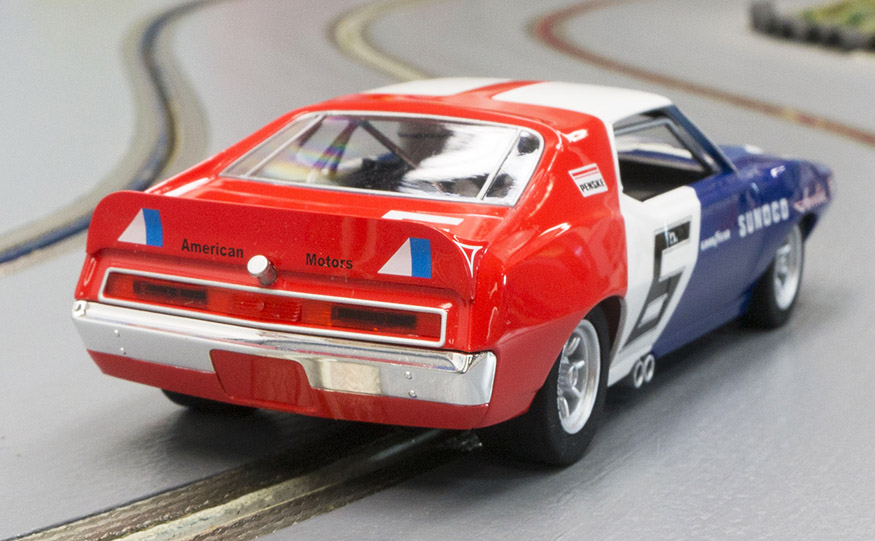 Nothing is ever perfect in this hobby. Either  company produces a car you feel is done well enough or they don't. Between the photos, dimension data, and videos, I think you should be able to make a decision.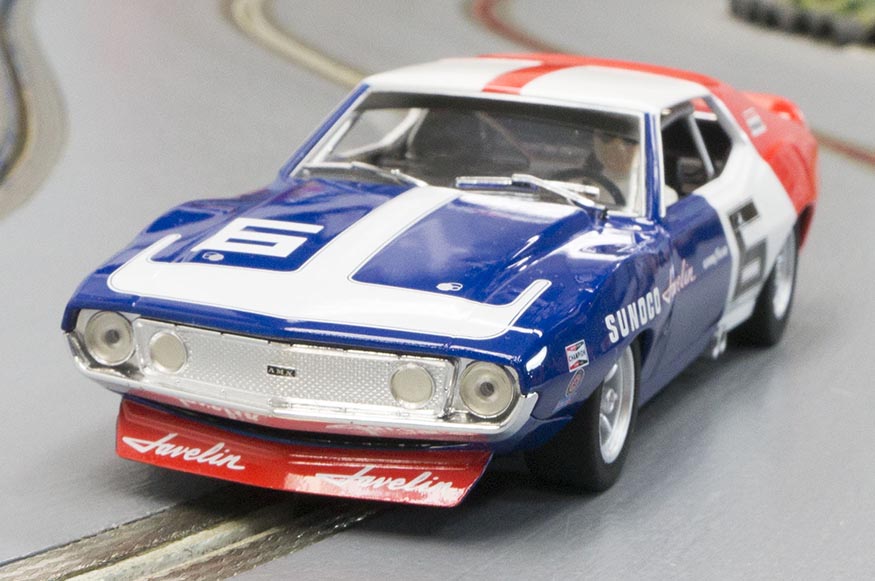 So it is impossible to please everyone but overall I think most of you will be happy. I can say I am much happier with this release than of the two earlier Cougar and Challenger. This car just looks good and the wheels and tires match the car closely enough for me.
So what do you think? Yes? No? Not sure?
Looking at from trackside the new interior looks well enough. The roll bars are a little low though. Not enough to bother me really, but it is rather noticeable.

Along with the excitement over this release, some controversy has followed. What has caused it?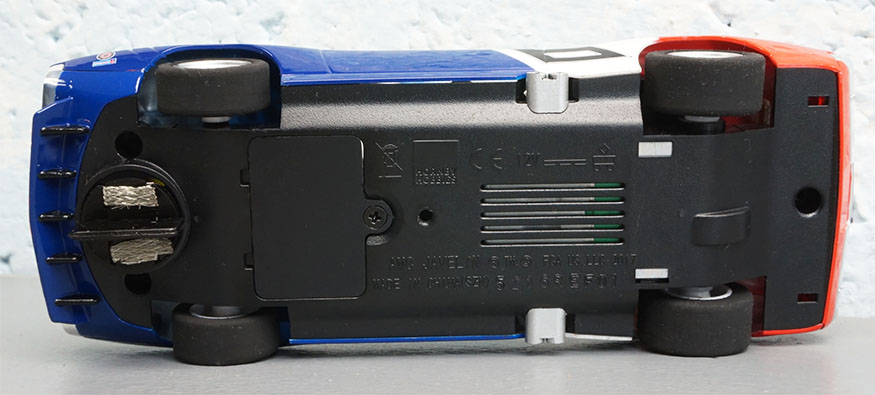 Tuners should look close at this photo. Yes it will be easy to free up this chassis. In fact just try backing off the screws without any chassis work. It does make a difference. My car has no harsh chassis to body binding. Maybe some very light sanding ( radius) on the edges is all you will need.
Also look at the rear wheel wells. There is room to spread the rear track. An upgrade to after-market gear would allow some easy tweaking in this area.
So that controversy? The decision to make this model with the inline configuration instead of sidewinder like all the cars in the Trans-Am series before it.
 At first you might feel this a big mistake and you won't be alone. Many diehard enthusiasts have voiced that.
Is it? My personal view has changed since the release of the recent GT and BTCC models. At first I did think this was not a very smart idea. But when I recently tested the Porsche 911 against the McLaren 12c, my results were nearly a dead heat.
Then I began to read more feedback from enthusiasts. From clubs all over the globe who are liking the return of the inline and finding them to be very competitive. Seems to me that if the GT models can be embraced, why not good old Trans-Am?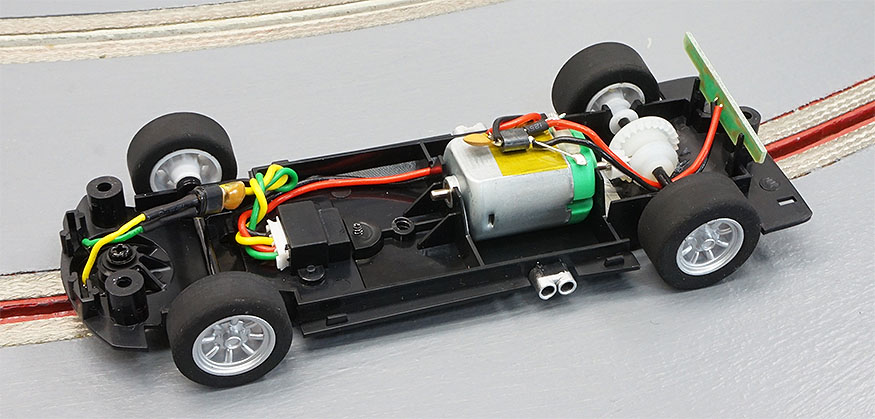 Looking inside the layout is simple. Just a straightforward inline configuration. 9 tooth pinion that turns the 27 tooth crown gear. The motor has a new green endbell, but no worries. I tested it and it's right around the latest Scalextric motor RPM's.
Another difference might be inconvenient for some racers. There is no other magnet pocket other than the one in the rear. If you are used to moving magnets around in the other pockets like on other Trans-Am models, this is something to be aware of.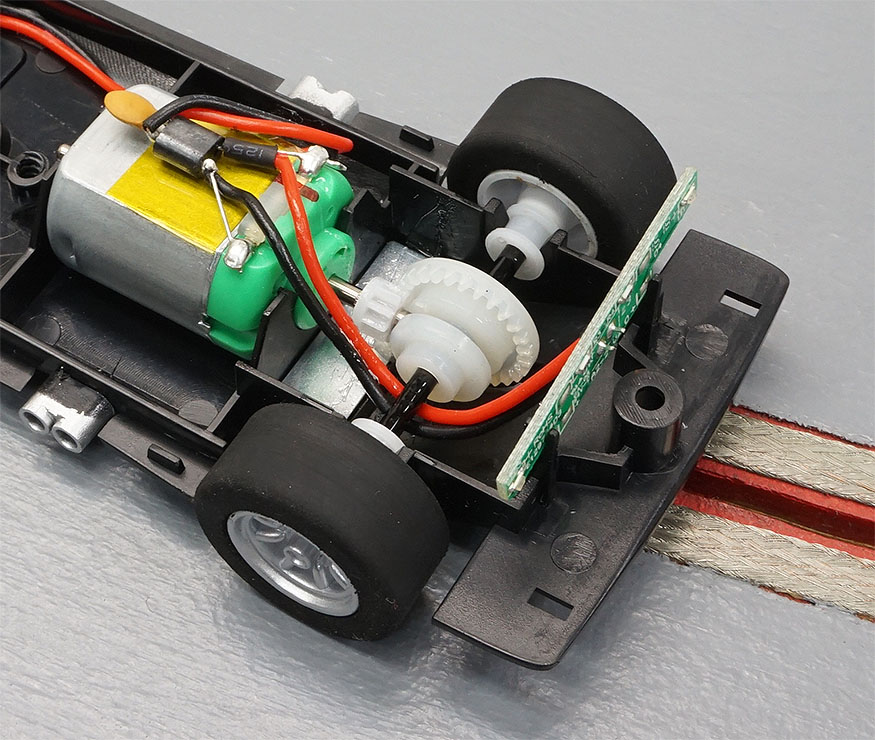 You might notice these rear tires look rather wide. Good. They should be on this car and for the racing enthusiast it's a welcome sight.
Scalextric announced last year that most cars will now come with wheels designed to the common Slot.it wheel dimensions. This is good when it happens. But as we have seen with the recent Porsche 911, the wheels were close, but no cigar. 
These wheels are nearly an exact match to the Slot.it "15×10" for the rears and "15×8" for the fronts. Remember that this terminology is more or less slang as that is not the exact dimensions.
But again we have an issue. The stock tires are a little loose, but not nearly as bad as the Porsche. It's the inner and outer rims that have the variance that is causing epic uproar for many.
Here they are.
REAR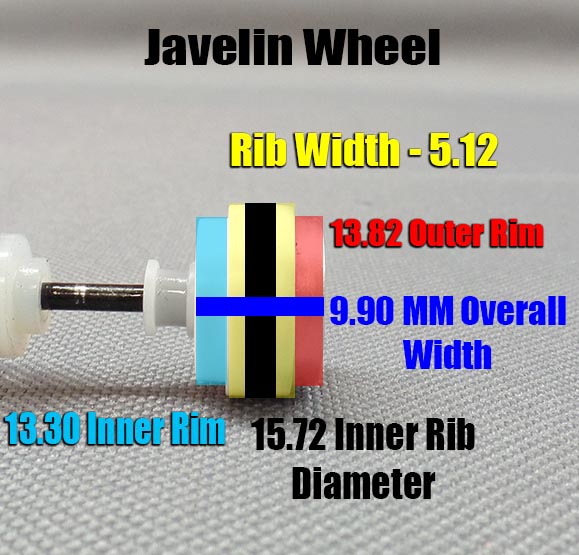 ALMOST
The rear wheels are good except for the INSIDE RIB. It is smaller in diameter and causes tires to fit at an angle.
For stock and urethane tire users, a quick sanding solves any issues. But for silicone fans it is a big deal. The inability to easily sand them will not make fans of the blend happy.
Scalextric needs to address this quickly. Advertising "Slot.it compatible" wheels and the last two releases (Porsche 911 and here) not fulfilling that promise, well, that is an issue.
As a comparison, here is the new rear wheels compared to the recent release 70 Camaro.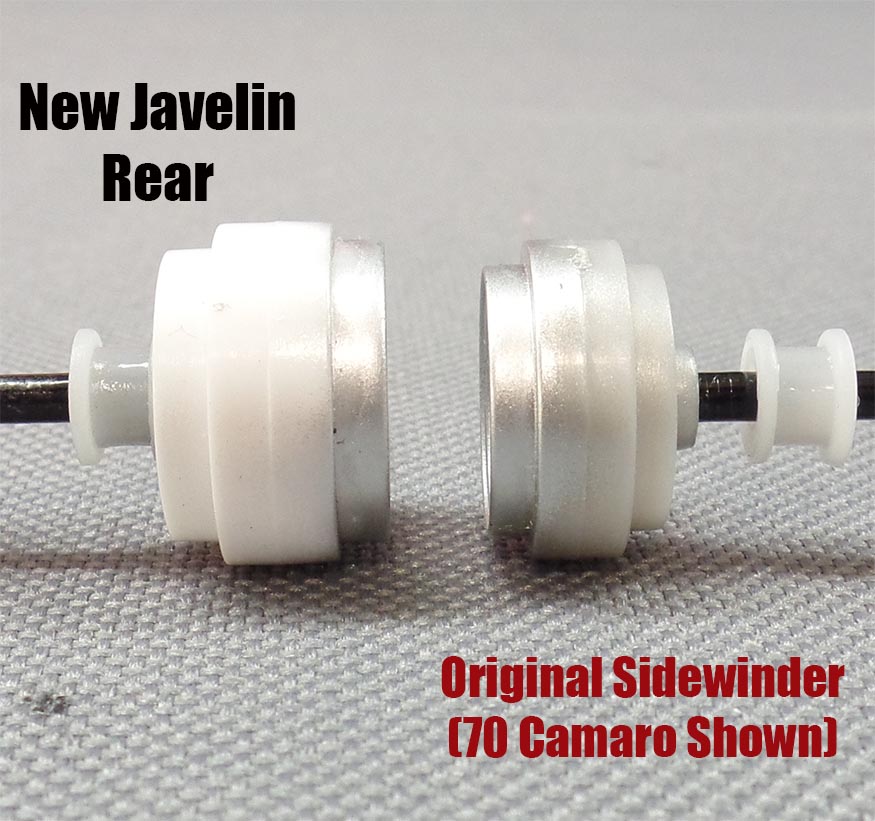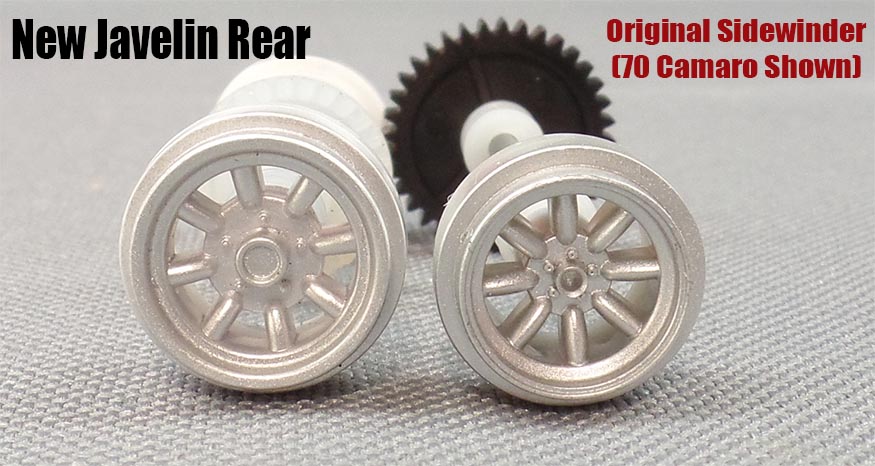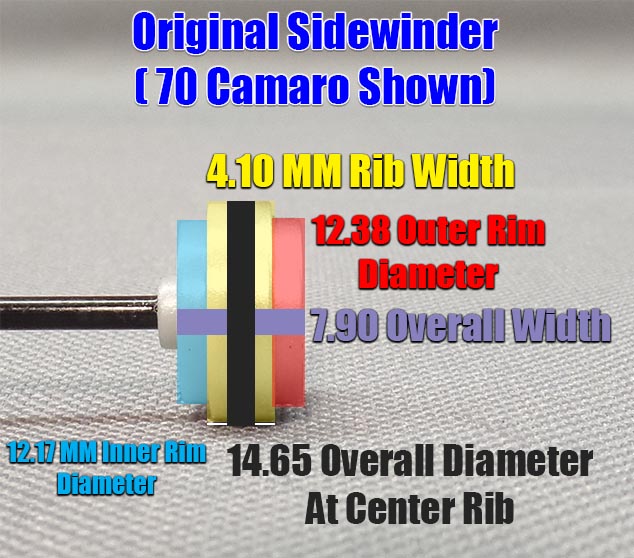 The fronts have the same diameters, just a narrow version.
The rears being incorrect (staggered) in size to a Slot.it means that bonus of finding perfectly fitting tires not that easy. You can easily build up one side with tape to try and correct the difference.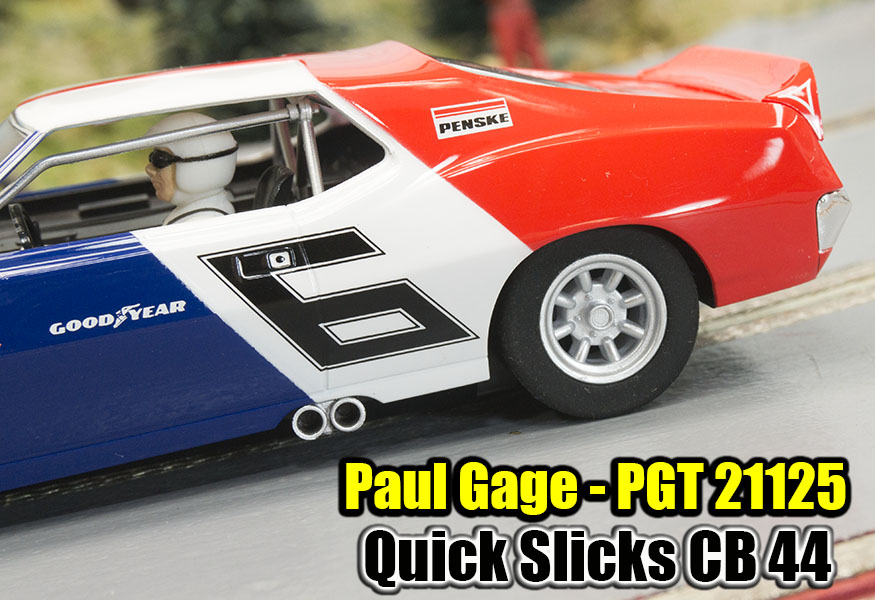 Both leading brands of tires I had on hand fit just fine except for the slight angle due to the mismatched sizes of outer and inner.
BUT I use urethane and sanding them flush was done in a matter of seconds. So the difference in sizes did not stop me from having a true tire.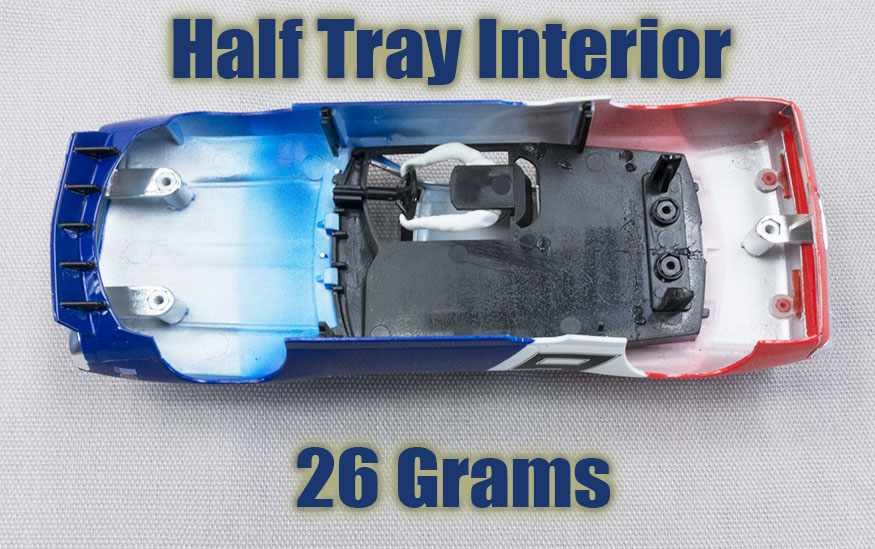 Another change is also for the better in this reviewer's opinion. A lighter half-tray type interior has returned. I appreciate scale detail as much as the next person, but if it's detail I cannot see then why bother? Most often the full interior is not only added weight, it interferes with the performance of the car. On many full interior models the bottom of this interior does not fit right and causes excess binding of the body to chassis fit.
As a novice tuner myself, I prefer to add the weight where I WANT it to be. This configuration allows me to do that without having excess weight inside and above the chassis where I don't.
Compare! Compare! Compare!
Seems the first question many enthusiast asks is how this car compares to the rest of the releases in sidewinder. I understand that concern.
So here is a pure out of the box comparison video against the Mustang.
REMEMBER!!! Pure box stock! On my non-magnet, wood track.
But we know that advanced enthusiasts have been tuning and tweaking these sidewinder cars for many years. They know how to get the very best out of these platforms. And many club/home tracks are quite larger than mine with much longer straight sections.
Now let's see how it goes against a slightly modified Camaro.
Hmmm. Not far off. Want to wager what a guide swap and some weight placement will do? 
My final verdict? This is just a good slot car. I feel it matches up very well with my current stable of Trans-Am models. How will it stack up against the grid at your track? Only you can report that. With so many different club/home rules and track configurations, it's impossible to say if the car is going to please you in performance.
It is also worthy to mention that today we have more aftermarket options than years ago. The 3D chassis explosion is upon us and a chassis for this car to allow you to change the entire configuration will likely be available very soon.  As many advanced enthusiasts routinely change and heavily modify existing models, I can easily see this car getting the same treatment and taking it's share of podium appearances.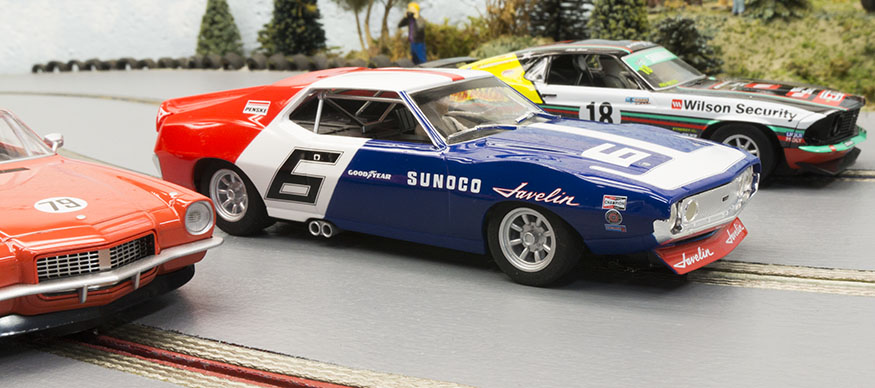 To me the CAR ITSELF is significant. This Champion car and driver combination has been absent far too long in our hobby. In a virtual sea of Euro based cars that often get repeated over and over by various brands, seeing a truly unique American icon of a car is well worth the price of admission alone.
-Harry